TOP 10 THINGS NEW SHOOTERS NEED TO KNOW:
 Guns are tools.
Just like any rational person wants to have a fire extinguisher in their home before a fire starts, guns are tools you want to have available before The Bad Thing happens. After all, you never know what might happen. Tools do you no good if they are not immediately available to you when you need them most. That also means you must know how to use them. Just having a fire extinguisher isn't enough if you don't use it when there is a fire; just sticking a gun in a safe and ignoring it isn't going to be enough if you're suddenly in need of it to defend your life or the lives of your loved ones. You need to both have a gun in advance of a life-threatening attack and know how to use it!
#1: TAKE A FIREARMS SAFETY CLASS BEFORE YOU EVER PICK UP A GUN
Before you decide to go shooting at a gun range you should investigate taking a gun safety class. It is extremely important to get a hands-on look at gun safety and how firearms function long before you are standing at the firing line.
#2: PICK UP GOOD FITTING EYE AND EAR PROTECTION BEFORE YOU VISIT THE RANGE
While you can rent these at most gun ranges, you will want to make sure that yours fit perfectly.
#3: FIND AN INSTRUCTOR AT YOUR LOCAL RANGE
Let this individual know your skill level and what you are looking to accomplish when you visit the range for the first time.
Most ranges offer a variety of gun safety classes for the inexperienced shooter to become familiar with firearms and safety.
Call your local range to learn more about available classes and which ones would be the best fit for your experience level.
#4: LEARN HOW TO SQUARE UP YOUR SIGHTS
Simply putting the front blade into the notch of the rear sight is not enough. You need to learn how to properly square up your sights and develop a consistent sight picture when engaging a target. You will want to understand how to hold the gun in relation to your body and how to reacquire a sight picture after the gun recoils.
#5: DEVELOP A CONSISTENT AND REPEATABLE GRIP ON THE GUN.
The main support hand does not need a vise-like grip on the gun, but the supplemental hand (the left hand for a right-handed shooter) should exert firm pressure on the grip of the gun.
#6: CHOOSE THE RIGHT CALIBER AS A NEW SHOOTER.
It makes no sense to belly up to the range with the latest bear-slaying magnum revolver in tow – you will have little fun and the overall experience of shooting will be marred by sore hands and blistered fingers. A smaller caliber semi-auto pistol is a great choice for most new shooters.
#7: EXPECT IT TO BE LOUD
Most new shooters are shocked to find out how noisy an indoor shooting range can be – and that is even when using quality ear protection. Part of the preparation as a new shooter is to prepare for this noise, as well as the concussive blast that accompanies each pull of the trigger.
#8: LEARN HOW TO SQUEEZE THE TRIGGER
Dry fire the gun in a safe environment and only after you have determined it is unloaded. This will help you learn the nuances of the gun without compounding the blast of the firing gun.
#9: ASK QUESTIONS FROM THE EXPERTS
Never be afraid to seek expert advice when you feel it is warranted. Guns are complex tools and can be deadly when used incorrectly. Gun specialists love to talk shop with new shooters, so take the time to connect with seasoned shooters who can give advice that is learned over the years.
The Range Safety Officer would be more than willing to answer any questions you have and even suggest shooting classes to help you become more familiar with firearms safety and training.
#10: HAVE FUN
There is no feeling like shooting a gun, and the experts at whichever range you choose, can help you create a memorable and rewarding experience the first time you pull the trigger.
 **all credit goes to the original posters who are referenced below**
References:
Ainsworth, Kat, and Kat Ainsworth. "10 Things New Gun Owners Need to Know." Pew Pew Tactical, 5 Apr. 2020, www.pewpewtactical.com/things-new-gun-owners-need-to-know/.
"10 Tips of First Time Shooters." The Range 702, 21 Nov. 2017, www.therange702.com/blog/10-tips-for-first-time-shooters/.

Information gathered by Taylor Smith.
Differences Between 308 WIN and 6.5 CREEDMOOR
 308 vs 6.5 Creedmoor Barrel Life
While the two cartridges have a very similar case capacity, throat erosion occurs faster with the 6.5 Creedmoor because it uses a smaller diameter barrel. Simply put, burning the same amount of powder in a smaller space will result in shorter barrel life.
This means that, in general, the 6.5 Creedmoor will simply wear out barrels faster than the .308 Winchester will. Exactly how fast that occurs depends on several factors like the quality of the barrel, the exact ammunition used, etc.
For serious target shooters, this is a concern. However, the good news for hunters is that typical 6.5 Creedmoor barrel life of 2,000-3,000 rounds is more than enough to last for many, many years of hunting with no issues at all.
So, there is basically no practical difference in 6.5 Creedmoor vs 308 Winchester barrel life as far as most hunters are concerned.
6.5 Creedmoor vs 308: Ammunition Selection
The .308 Winchester is extremely popular among hunters and shooters in the United States and consistently ranks as one of the bestselling cartridges in the country. The 6.5 Creedmoor is no slouch in this regard, but it still cannot hold a candle to the .308 in terms of widespread use. Even so, the cartridge seems to be steadily growing in popularity, but only time will tell if it becomes as popular or widespread as the .308 though.
The big ammunition manufacturers like Barnes, Berger, Black Hills, Federal Premium, Hornady, HSM, Norma, Nosler, PPU Remington, Sellier & Bellot, Swift, and Winchester all produce a number of high quality 6.5 Creedmoor, and .308 Win factory ammunition suitable for hunting. Prices and availability vary from region to region, but ammunition for both cartridges is very common. The .308 Winchester is a much easier to find and a little less expensive than the 6.5 Creedmoor though.
Reloading components for all both cartridges are also widely available so making custom handloads is not too difficult for either cartridge.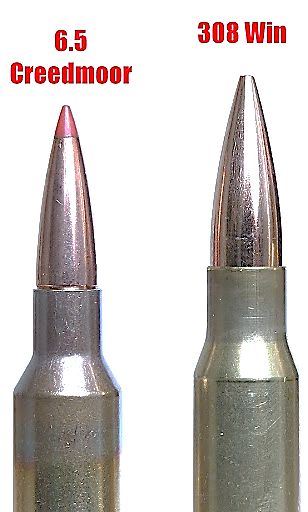 Do you primarily hunt medium sized game like deer, feral hogs, or black bear at ranges within 200 yards?
-          Both cartridges with absolutely get the job done if you do your part and there isn't much of a difference between them ballistically inside of 300 yards. Go with the .308 Winchester if you want the cheapest or easiest to find deer hunting ammo.
Are you interested in the better cartridge for hunting game like mule deer or pronghorn in open country where you might need to take a shot at several hundred yards?
-          Both will also work in this role, but the 6.5 Creedmoor has a flatter trajectory, will drift less in the wind, and still carries enough energy out to 400-500 yards to cleanly take deer sized game without any issues.
Do you prefer to use a semi-automatic rifle for hunting or want a battle rifle for personal defense?
-          Go with the .308 Winchester as there are many more quality rifles available in this cartridge than the 6.5 Creedmoor.
Are you sensitive to recoil?
-          Go with the 6.5 Creedmoor. This cartridge is especially well suited to new, small framed, and or recoil shy hunters. Indeed, a good rifle chambered in 6.5 Creedmoor is a great gift for a hunter who is just getting started.
Are you a serious long-range shooter searching for the cartridge best suited for target shooting out to 1,200 yds or so in a precision rifle?
-           Again, go with the 6.5 Creedmoor, which really stands head and shoulders above the .308 Winchester for long range precision shooting.
Do you want a cartridge well suited for elk, moose, caribou, kudu, eland, or red stag hunting?
-           Especially when using heavier bullets, the .308 Winchester wins hands down here due to the big advantage the cartridge has in in frontal surface area as well as energy under 200 yards.
 **all credit goes to the original posters who are referenced below**

References:
Cerro, David, et al. "6.5 Creedmoor vs 308 Winchester Debate Settled." Big Game Hunting Blog, 18 Apr. 2020, thebiggamehuntingblog.com/65-creedmoor-vs-308-winchester/.
Billet vs cast Lower Receivers

1. Cast Aluminum AR Lower Receiver
One of the processes for manufacturing an AR-15 lower receiver is to 'cast' the lower. This means the lower receiver is formed using a mold. Molten aluminum is poured into the mold to form the overall shape of the lower. Once the aluminum solidifies the aluminum 'casting' is removed from the mold. The 'cast' lower receiver is then finished on a CNC machine.
Cast lower receivers offer buyers some of the most economical lowers of the three manufacturing processes. Furthermore, by casting a lower receiver from A380 aluminum the lower is given the best synthesis of mechanical properties offered by a casting process.
Cast receivers are also the blunt of unfair criticism. Due to a handful of manufacturers who became known for poor casting and inattention to detail, the cast lower has received a bad rap. Although, if properly cast and heat treated, a cast lower receiver can be suitable for most AR-15 applications.
Below is a stripped AR 15 lower, that was poured into a cast.
2. Billet Aluminum AR Lower Receiver
A billet lower receiver is formed from a solid block of aluminum often called 'bar stock.' This 'bar stock' is formed from extruded aluminum. "Extruded" simply means the aluminum was formed into a shape by rolling between two rollers. (A mental image might be to think of it as a piece of dough, which was extruded or 'rolled' and cut to various shapes to form different types of pasta.) From a piece of this extrusion or 'bar stock' a CNC machine will cut the billet into the shape of an AR-15 lower receiver.
Due to the CNC's ability to machine billet aluminum into designated shapes, billet lower receivers are considered the most aesthetic. While one-piece trigger guards, fine lines and geometric designs do little for overall performance, some AR builders consider these to be bonus features when considering the overall look of their AR build.
Below is a Tactical Skeleton AR 15 lower made from machine billet aluminum.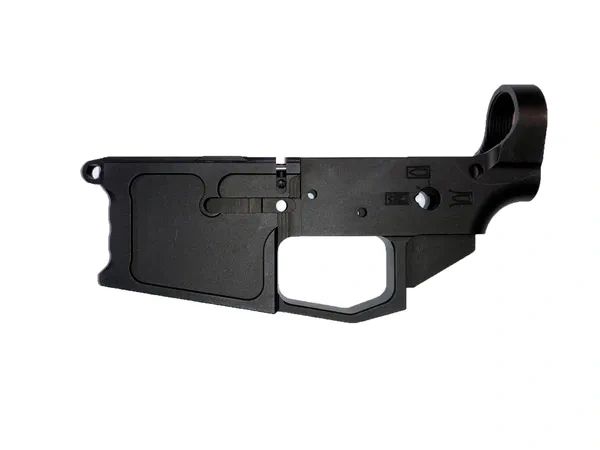 ** all credits go to original authors who are referenced below**
References:
Ammoland. "AR Rifle Lower Receivers: Cast vs Billet vs Forged Aluminum." AmmoLand.com, Ammoland Inc, 10 Jan. 2017, www.ammoland.com/2014/08/ar-rifle-lower-receivers-cast-vs-billet-vs-forged-aluminum/#axzz6KN5tbOTd.
Benefits of Cerakote and the process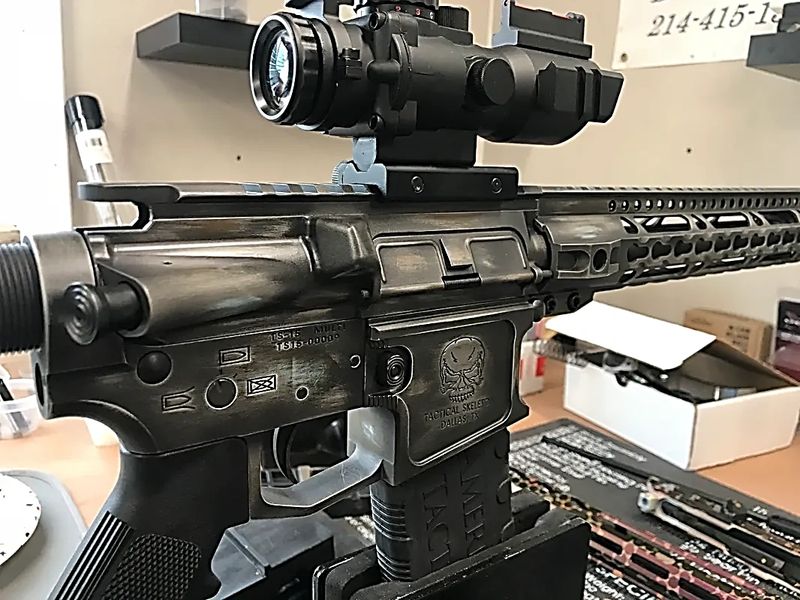 Picture is from Silver Fox Coatings; they are the ones we trust with all our Cerakoting needs here at Tactical Skeleton.
Cerakote is, simply put, a ceramic and polymer coating applied to hard finishes in order to achieve bold looks and better protection. The coating specifically protects against abrasions, common when training on the range or traipsing through the woods, in addition to delivering corrosion resistance.
As most firearms feature a certain level of steel and/or aluminum, the extra coat of Cerakote reduces the interaction between oils and liquids and the firearm itself. This prevents nasty corrosion from setting in and harming not only the look of the gun but its functionality as well.
While the practical applications of Cerakote are appealing from a protective standpoint, the art behind it has driven a new generation of gun owners to seek out the finish. From bright colors to funky patterns, Cerakote has opened the door for consumers to express their personalities through their guns and gear. The process has exploded in popularity with more and more Cerakote artists and shops cropping up online and on social media, showcasing their creativity. The result — a wide variety of rich colors, fun patterns and unique looks designed to be the envy at any gun range.
Unlike many other aspects of the gun industry, applying Cerakote to a firearm or part is not a do-it-yourself venture. The process takes a certain level of know-how to successfully complete, according to Cerakote. (https://silverfoxcoatings.com/ à they are truly amazing)
The Cerakote Process
1.      The Cerakote process begins with the gun disassembled — fieldstripping alone will not do. Cerakote emphasizes during its training sessions that the firearm must be completely and fully disassembled for the coating to work properly. The firearms' components are then de-greased, followed by a blast with garnet sand to ensure no oils remain on any surfaces. Any residual oils left on the gun can cause issues with the coating, thus extra care must be taken in order to ensure the weapon is free and clear of any oils.
2.      After all oils are successfully removed, the Cerakote finish is then applied using a HLVP spray gun. Skill and finesse are required to ensure the proper thickness of the coating is achieved. Too much and the finish interferes with proper firearm operation. Once applied, all metal parts are oven-cured at 250-degrees while polymer components are oven-cured at 150 to 180-degrees.
Though Cerakote offers advantages, the process does require gun owners to surrender guns to a custom shop; unless, the gun is purchased straight from the manufacturer with a Cerakote already applied. In addition to time spent away, the cost of Cerakoting is another factor that prevents some gun owners from achieving anything other than standard black. Cost, of course, depends on the style and complexity of the design; but even just a basic flat color can knock the price of a gun up by a couple hundred dollars.
** all credits go to original authors who are referenced below**

References:
Billings, Jacki. "What Is Cerakote and Why Is It On The Rise?" Guns.com, Guns.com News, 21 Mar. 2019, www.guns.com/news/2018/09/17/what-is-cerakote-and-why-is-it-on-the-rise.